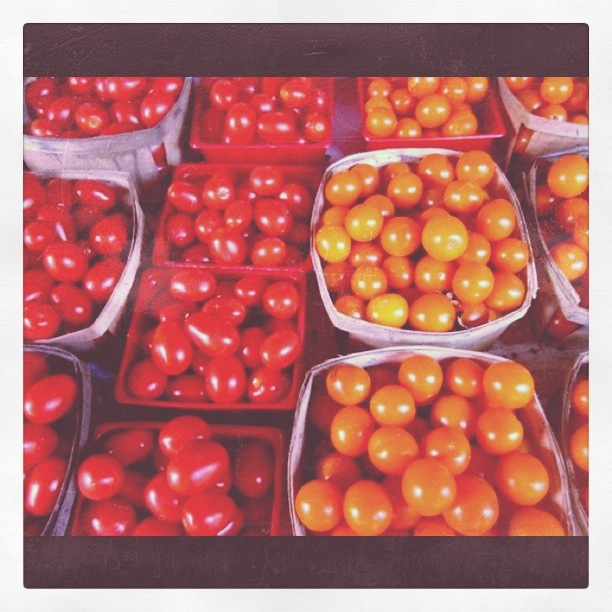 So you're ready to #feedyourgut: first, clean out your fridge, freezer and pantry of any dairy, processed food, red meat, and anything with added sugar.
Now that you're ready for a fresh start— head out to the farmers market and then to the grocery store. Let's stock your fridge, freezer and pantry with gut-healthy alternatives.
Here's what you need:
1. Fruits + Veggies: Go all out! Fruits & veggies should fill up the majority of your shopping cart. But most importantly- BUY IN-SEASON + try new things!
- Fruit staples: avocado, bananas, berries, citrus, papayas, tomatoes.
- Veggie staples: Leafy greens (spinach, swiss chard, lettuce), broccoli, brussel sprouts, cabbage, potatoes (sweet potatoes, yams), squash, pumpkin, root veggies (turnip, carrots, parsnip), sprouts (alfalfa), bell peppers, eggplant, zucchini, green beans, fennel, endive, fresh corn, snow peas, olives.
- Be creative! Find interesting recipes & discover interesting new fruits + veggies at your local farmer's market. I always find something new!
2. Plant-based "dairy"
- "Milk": Always unsweetened + plain
Almond milk: Malk, 365

Oat milk: Oatly, Califia farms

Soy milk: Silk, 365
- Yogurt: Always unsweetened + plain
Califia Farms Probiotic Drinkable Yogurt, Dairy Free

Kite Hill

Anita's coconut yogurt
- Beans: chickpeas (hummus!), black beans, white beans, you name it!
- Lentils
- Tofu
- Tempeh
- Seitan
4. Nuts/Seeds
- Unsweetened + raw preferred!
- All nuts + nut butters! Almond/almond butter, peanuts/peanut butter, macadamia, pecans, pine nuts, walnuts
Ex. 365 Organic Peanut or Almond Butter (NOT "creamy spread")
- All seeds! Chia seeds, pumpkin seeds, sesame seeds, sunflower seeds, ground flax seeds
Sunbutter Sunflower Butter (no sugar added)

Spectrum Essentials Ground Organic Flaxseed
5. Grains
- Oats (steel cut for hot, rolled old fashioned oats for overnight oats), oat bran
- Quinoa
- Brown or white rice, rice bran
- Breads, wraps, and tortillas made from sourdough, oats, rice, spelt, buckwheat, etc.
Food for Life makes some great bread options like Bhutanese Red Rice Bread, Exotic Black Rice Bread, Raisin Pecan Bread and Rice Almond Bread (find them in the frozen section!)

Maria & Ricardo's organic sprouted grains tortillas, gluten free tortillas, organic tortillas, and flour tortillas. Vegan. Non GMO. I love the sprouted spelt & barley one.

Vermont Bread Company Spelt Organic English Muffins

Mestemacher Fitness Bread, Pumpernickel bread, Whole Rye bread (this stuff is dense, fiber-rich but not gluten free so eat sparingly)

Food for Life Ezekiel 4:9 Flax Sprouted Grain Bread
- Pastas
- Buckwheat
- Popcorn (salted. sans butter + sugar)
- Polenta
- High fiber crackers/crispbreads: Wasa products (Fiber, Hearty), Finn Crisp
- Brown rice cakes by Lundberg or Quaker. Top with hummus! The salted brown rice Lundberg ones are great and Quaker makes a good one too with different texture- try them both!
- Beanfields Bean and Rice Chips. The "nacho" and "salt + pepper" flavors are so addictive! 150% more protein, 250% more fiber and up to 44% less fat per serving than typical tortilla chips. Gluten-free, Non-GMO, vegan and allergy-friendly
6. Condiments
- Maple syrup
- Agave syrup: Wholesome Sweeteners Organic Blue Agave
- Stevia
- Dark chocolate- Hu
- Vegan ice cream- Van Leewen
-Vegan sorbet- Sorbabes
- Vegan cookies- Mom's organic munchies (mint cookie)
8. Oils, Herbs and Spices (healthy doesn't mean boring! spice it up!)
- Olive oil (for cooking), extra virgin olive oil (for raw use in salads, etc) and don't stop there! Try almond oil, hazelnut oil, walnut oil, grapeseed oil, and avocado oil. They all add a unique flavor to salads, fish, you name it!
- Herbs: basil, chives, cilantro, mint, lemongrass, oregano, parsley, rosemary, lavender, sage, thyme, tarragon, ramps
- Spices: cardamom, chili powder/pastes, cinnamon, coriander, cumin, curry, fennel seeds, ginger, marjoram, nutmeg, paprika, pepper, saffron, star anise, tarragon, turmeric, porcini powder
9. Drinks
- Hot coffee or cold brew (unsweetened, no milk!)
- Hot tea or iced teas (unsweetened, no milk!)
- Lemonade: Water, lemon juice, agave (add cayenne!)
- Juices sparingly (all sugar, no fiber)
- If you care for alcohol, stick to wine and spirits and keep it to maximum 1 drink for women/day and 2 drinks for men/day. Beer will make you bloated! And more alcohol will just pack on the calories and put you at risk for cancers, cirrhosis, and so many other illnesses!